| | |
| --- | --- |
| 5120 Wilsch Rd Conover Vilas County | MLS Number: 179565 |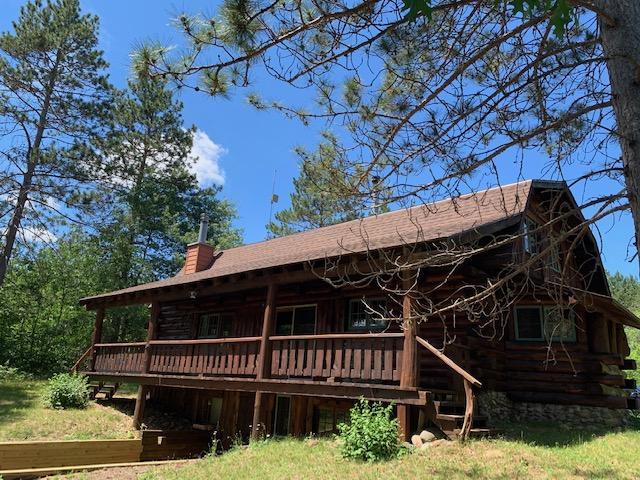 You might think you took a wrong turn and ended up in Canada when you arrive at this ULTRA private Torch Lake retreat. Bordered by Vilas Cty land, this ~1992 Joe Hovel artisan log home is the very definition of pure rustic Northwoods living, where wildlife abounds. A throwback in time, really. If you don't want to see your neighbors & just want to absorb the sights, scents, & sounds of nature, consider this refuge a must see. Torch Lake is a clean, peaceful, no motor lake with excellent fishing including smallies, LMB, bluegill, perch, etc. Even though you are secluded, all the conveniences of Eagle River are a mere 10 minutes away. Features include a large eat-in kitchen with a traditional & a wood cookstove, corner woodburning fireplace, covered lakeside porch, large garden area, and gentle slope to the shore. List of numerous updates on file. True rustic cabins with the necessary comforts are hard to come by. Escape the noise. Your rocking chair will look great on this front porch!
Lake/River: Torch (Home)
$275,000
View Details | Contact Lisa Eggman


I serve all of Oneida and Vilas Counties, including Rhinelander, Sugar Camp, Eagle River, Three Lakes, St. Germain, Lake Tomahawk, Minocqua, and many other wonderful Northwoods communities. I also service parts of Lincoln, Langlade, and Forest Counties.
I specialize in Waterfront Properties, including properties on some of our famous Northwoods lake chains, such as the Eagle River/Three Lakes Chain, the Rhinelander Chain, the Sugar Camp Chain, and the Minocqua Chain. I also specialize in off-water residential properties and condominiums. I am fortunate enough to live and work in a place that some only get to visit once a year on vacation. This is why as a selling agent, assisting buyers in the purchase of a lake home means so much to me. It is tremendously satisfying when I am able to help a family acquire a Northwoods retreat, where treasured memories are soon to be born! I offer Buyer Representation, if you are interested in having an agent work on your behalf, to negotiate the best possible price and terms on a property. I am also very happy to help newcomers acclimate to the Northwoods with references, community information, and anything else that helps to ensure a smooth transition.
As a listing agent, I dedicate myself to "Professionalism Unsurpassed" in the representation and marketing of your property. In partnership with you, my client, I develop a custom marketing plan based on your specific property, and its nuances. One size fits all marketing is not what I do. I look at each new listing as a project, with a unique set of amenities, intricacies, and challenges, and develop a marketing plan that ensures a successful sale, at the best possible price, in the least amount of time, with the least amount of stress or inconvenience to you, the seller. If you are considering listing your property and would like a free no-obligation market analysis, please call, email, or text me today!
If you are an agent outside the area looking for dedicated, professional, full time Realtor to assist a buyer or seller that you know here in my area, please know that I treat all referred clients and customers with special care. I greatly appreciate referrals.
Thank you again for visiting MyNorthwoodsDreamHome.com!